Today we will continue with the log for painting my first ever Bust/large scale model - the awesome sculpt of Boromir by Knight Models.
SO this is more or less where we left off -
1. Colours blocked in with the airbrush
2. Preshading on the cloak, hair and face and face.
3. Skin tones made of brownsand, black red, pale flesh and a touch of ivory
4. Bluish tones added to skin tones on left side of face, hair and into left side of cloak.
5. Unmasked it as we are finished with the airbrush for now...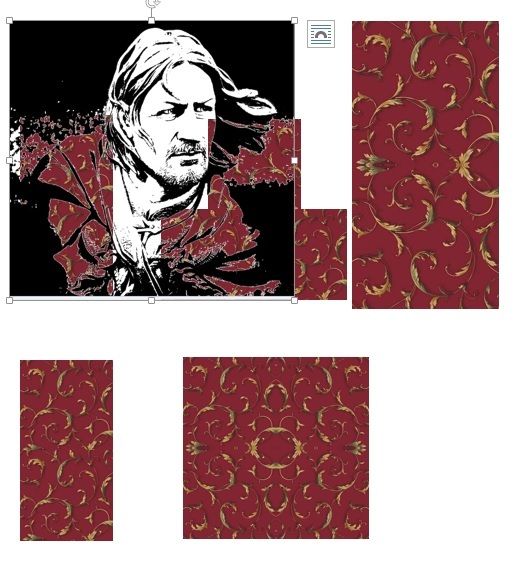 So what is next, and why do I refer to it as the scary part? Well that is because If I screwed up on the next segment I would have to strip the whole model and start again. Yep. All or nothing - and it wasn't going to be easy! But man, was it exciting :)
So I took a picture of Boromir and used the computer to recreate it in black and white with full transparency - this way I could lay it over a variety of patterns and get a rough idea of what each would look like and what scale I wanted to paint it at! I tried a LOT of different patterns before deciding on one. That being said, I honestly believe it was worth the effort and planning.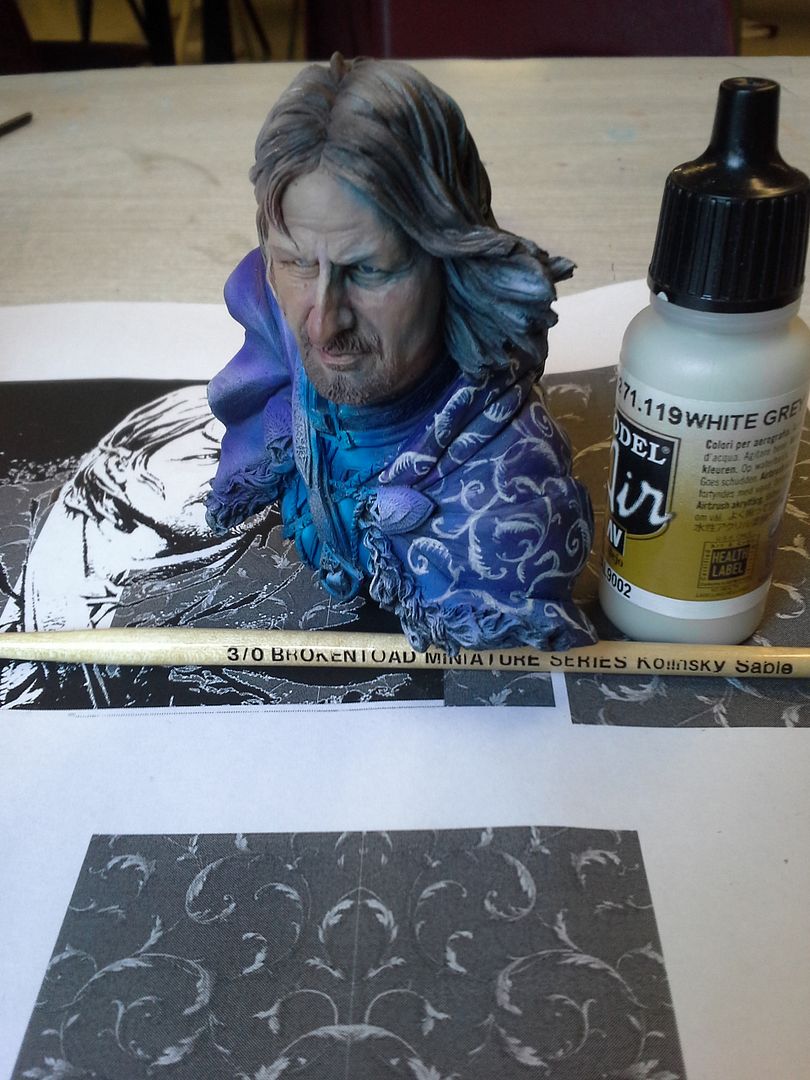 So with a rough plan and a pattern to work with I grabbed my newest paintbrush
obsession
- a 3/0 by
Broken Toad
(SO GOOD and HALF the price of Series 7 - Full review Soon!), my Vallejo White grey and with a combination of flow aid and unicorn tears started to paint this pattern. I would love to tell you there is some sort of trick or super slick technique to doing this.... but there isn't. This was good old fashioned time, sweat and swearing until it all came together! I kept it as clean as I could and really used the beautiful line control that the Broken toad brush allows for to lay it in. I did it in 2-3 layers so that I could sketch it super translucent first - removing and mistakes before the paint had time to bite in and then set it with a hairdryer as soon as I had a section I was pleased with. then I re-layered to give greater opacity and smoothness. eventually I worked all the way around the figure.
This was good - the pattern looked great...... But now was the point where I had to hold my breath and hope for the best! I knew it was coming. I knew that I wanted to do this, BUT (like pretty much everything else in this project thus far) I was about to step into territory that I had not actually tried before. I was trusting in my skill and understanding of my techniques and tools to carry my through.
The next step was to paint completely over the top of all the damask, the shading, the transitions that I had created in that cloak. I was going to cover ALL of it with a burgundy filter.. When I did so I had to count on my contrasts and transitions to be strong enough, my filter to be translucent enough and my brushwork to be clean enough because once layered there was no going back. All in.
I used P3 Sanguine base, Model Air Maroon and some black red with a tiny bit of Badger Ghost tint blue in the left hand shadows..... And by golly it worked ;)
The pattern held, the shadows held, the transitions held. It was beautiful and I was so relieved.
Next up leather, new metallics, the shield, hair.... all the things!
James K. Craig AKA TKKultist