Marriage, GenCon, White Dwarf projects, the McVey's, Zoats - SO MUCH TO REPORT! I am woefully behind in my updates but hopefully this rather lengthy post should help bring everyone up to speed.....
MARRIAGE
In July I got married to Lisa in what was an incredible gathering on a beautiful day. A few pictures have been posted in my "Friends" gallery - the rest can be seen by going to
ishootweddings.ca
. This is the site of Jeremy Ashley - a great photographer who was a ton of fun to work with. Following my wedding I went on honeymoon to relax and recover from all the craziness of preparing for the wedding and our recent move.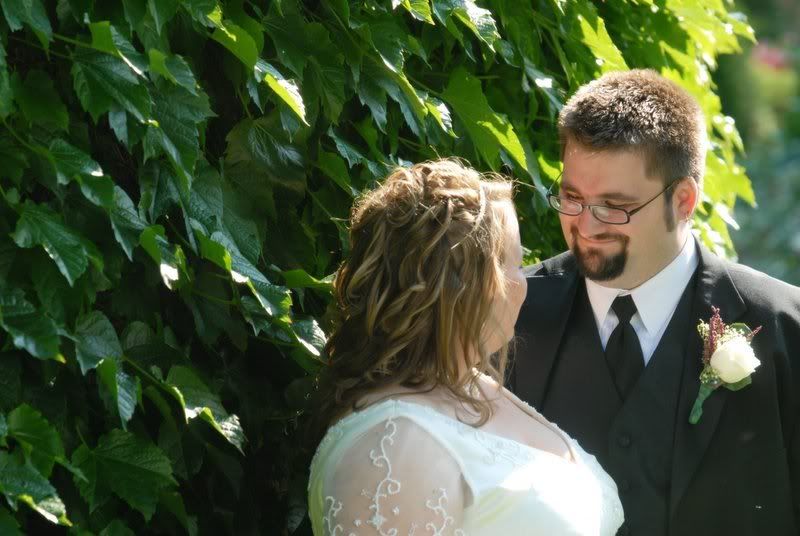 GENCON
In August I attended GenCon which truly lived up to its hype. It was great time and I had a blast hanging with Jen, Greg, Dave, Dennis and Joe as well as a bunch of new friends including Angela Imerie, Tom Shadle, Jeff, David, Sue, Art, Zach, Rich, Mengu, Debbie, Marika, Angela, etc etc etc. it was wild. Thanks again to Jen, Greg and Mojo for letting me borrow the couch in Chicago.
My favorite part of the event was the
ACES speed painting competition
which i was invited to be a part of this year. 10 top painters, 1 brush, a limited palette, a surprise figure and only one hour to paint it. The pieces were then auctioned for charity and brought in a staggering $800 (a new record for the aces). This year's models were from the final range of Darksword Elmore figures sculpted by
Dennis Mize
before his unfortunate passing.
Larry Elmore
was on hand to do photos with the Aces (see below) and was nice enough to give us a thank you gift credit at his booth - this was really classy and much appreciated. There is lots of coverage of all this in my
Events Gallery
so check it out.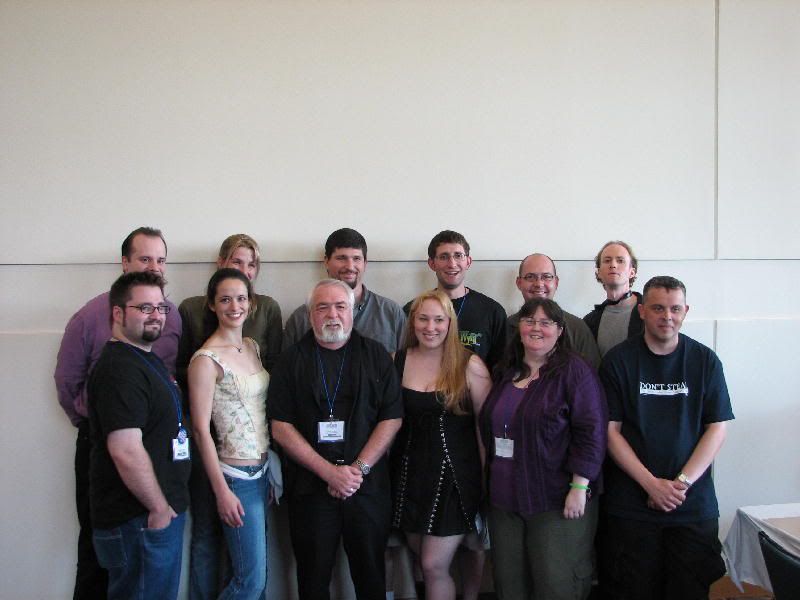 THE McVEYS
I also got to meet
Mike and Aly McVey,
which was a real treat. They were super nice people and I'd like to thank them for their time and conversation. At the Privateer Booth were the new paints which Mike has been developing. They are very nice indeed. I am looking forward to trying out more of them in the near future.
On the paint front, I also got a chance to try more of the new
Reaper master series paints
that Anne has been developing. Some of them are so sweet I think they will take up permanent residence in my paint case - the steel colour especially (Dave Pauwells actually put me on to this one). If you haven't met Anne she is a real treat and I really have enjoyed the few times I have been at events with her. She is one of the most honest and straightforward painting critics I have ever met - and those are qualities I really appreciate. If you have the time and a real inclination to improve seek her out at a show and get some real serious feedback that you can use.
Also got a peek at
Rackham's new paint
. Honestly it may be the
worst
paint I have seen from any miniature company. I should qualify that I guess- If I were a new player just starting and i wanted to slap some paint on the figs and go - this stuff is sticky and thick enough that I'm sure the yellow would probably cover even black. It does not, however, thin well with water - it is incredibly sticky and I dont see it as being really great for blending. Perhaps I have missed something here - and if so please feel free to email me and set me right, but it seemed terrible at the time.
I also taught some classes and took a number of classes myself including a great one on mini photography and Dave's Liber Metallica.
Oh BTW if you are lucky enough to ever get a chance to do the GenCon "True Dungeon"never EVER under ANY circumstances drink the
barbarian potion
... you can thank me for that one later.....
ZOATS
On the miniatures front I have started building an army of
Zoats
. Yup those crazy
RT era
quadrupeds are rearing their ugly heads in a new army for me. I intend to use them in a
Necron based list
to reflect their strange alien technology. The Zoats will be destroyers and heavy destroyers - I have also secured a pair of WFB zoats to be my destroyer lords. I will convert old lizardmen for my warriors.
WHITE DWARF PROJECTS
I was also invited to create a piece for the
Canadian White Dwarf
. It is a really cool piece of work which will have to remain quiet for the short term as I intend to enter Photos of it in the
Bolter and Chainsword Ressurection contest
. Details and pics will go up on my site during my next update.
My
miniature photography
has been going slower than I hoped - still not quite nailing the pics I want so the updates have stayed a little sparse. But I can confidently say I am getting closer.
Currently I am finishing up my
guard army for Astronomicon
and getting back to work on my
beastmen
as well as a couple other
Demon projects
. Hopefully I will have some info worth posting soon.