Here is a set of small batreps from an event I attended a while ago. It was actually the first tournament I had taken Ashlynn to (and the very first time I had used her). Worked out so well I have been enjoying her list ever since.....
Here was the event info:
First Come First Serve Restrictions
Remember Only One person is allowed to use any Single Caster, Character Jack, Character Unit or Character Solo. For example if I decided to use Victoria Haley as my Cygnar Warcaster then you can't, Epic Haley would still be available though.
And being the cocky jerk I am, I posted this to the forum list:
Alright to heck with it - I will pony up. Time to bash y'all with something other than rhulfolk - I cant wait to try her at 35 points because I really like that list better, but as my darling Wife pointed out - I may not be playing again for a while when the baby comes so might as well go out with a bang (even if it means getting my proverbial face bashed in during this tourney!)
Ashlynn d'Elyse+6
Talon4
Vanguard5
Mule8
Herne & Jonne3
Horgenhold Forge Guard (Leader and 9 Grunts)8
Eiryss, Mage Hunter of Ios3
Ogrun Bokur3
Rhupert Carvolo, Piper of Ord
So Im locking Ashlynn, H&J, Eiryss MHOI, Rhupert
Smooth eh? So here were my matchups: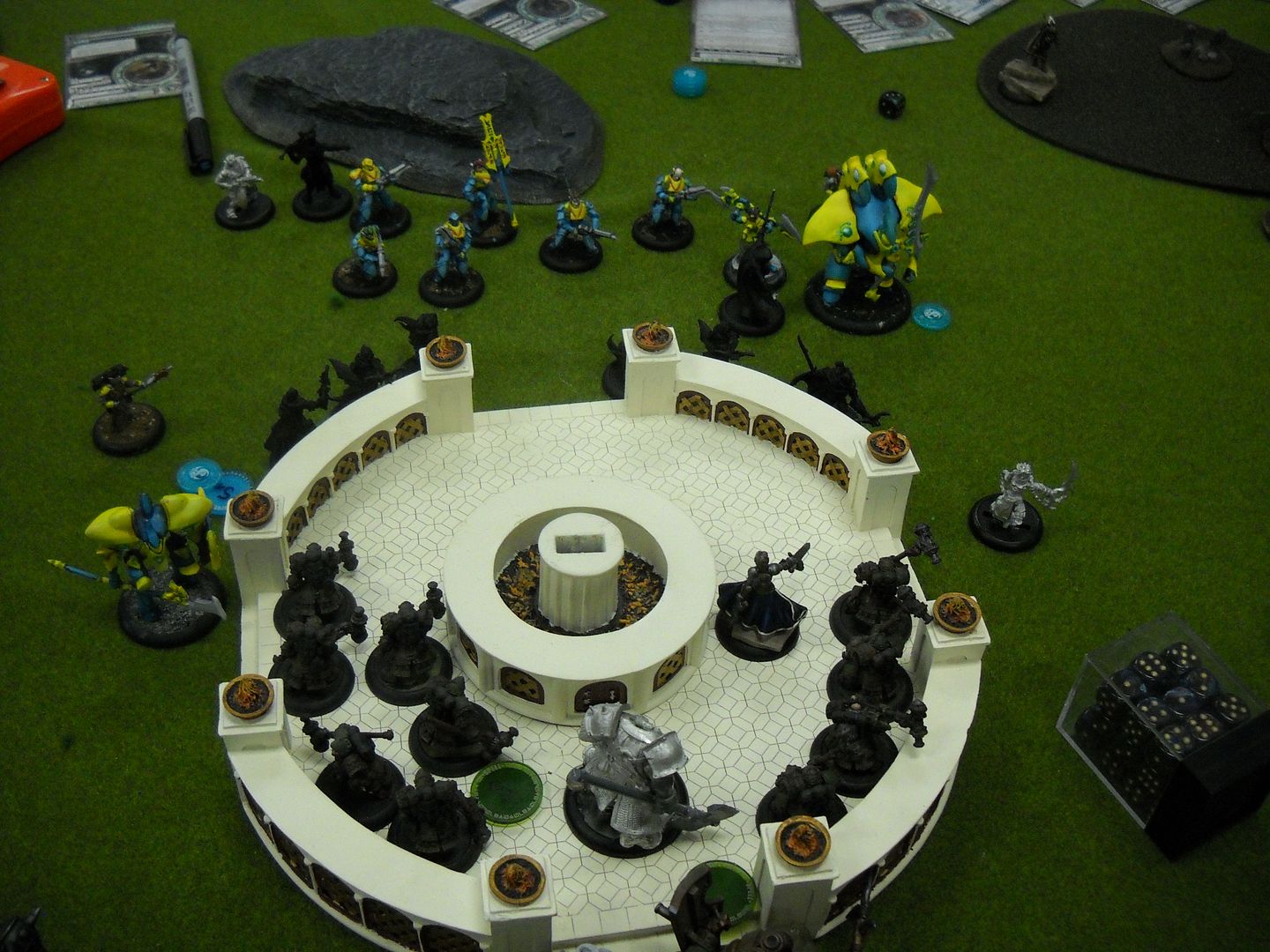 Ravyn -6
Phoenix 10
Griffon 4
Mage Hunter Strike Force 5
Mage Hunter Commander 2
Dawnguard Invictors 6
Invitcor Officer and Standard 2
Mage Hunter Assassin 2
Mage Hunter Assassin 2
Arcanist 1
Arcanist 1
I used the Talon as a sheild, and relied on the Bokur and Vanguard to draw off a bit of fire along with Ashlynn's gunslinger skill and high def. Shoved her right up the middle into the scenery cover (Menoth Temple piece) and used the Forgeguard to keep melee assaults at bay. Eiryss then did the majority of the work running deep down the wide flank and keeping the pressure on Ravyn to keep coming up the board or turn and find her force splintered into two uneven groups. Between Eiryss, Roulette and some shooting/magic output from Ashlynn herself, Ravyn went down.
Next up I played against Phillipe and his Cygnar force. It had a pretty nice selection of Jacks, a bit of cavalry, a real nice mix overall. It had tabled his opponent in about 20 minutes in the first game.....
Commander Adept Nemo +6
Centurion9
Ironclad7
Journeyman Warcaster3
Charger4
Major Katherine Laddermore5
Storm Lances7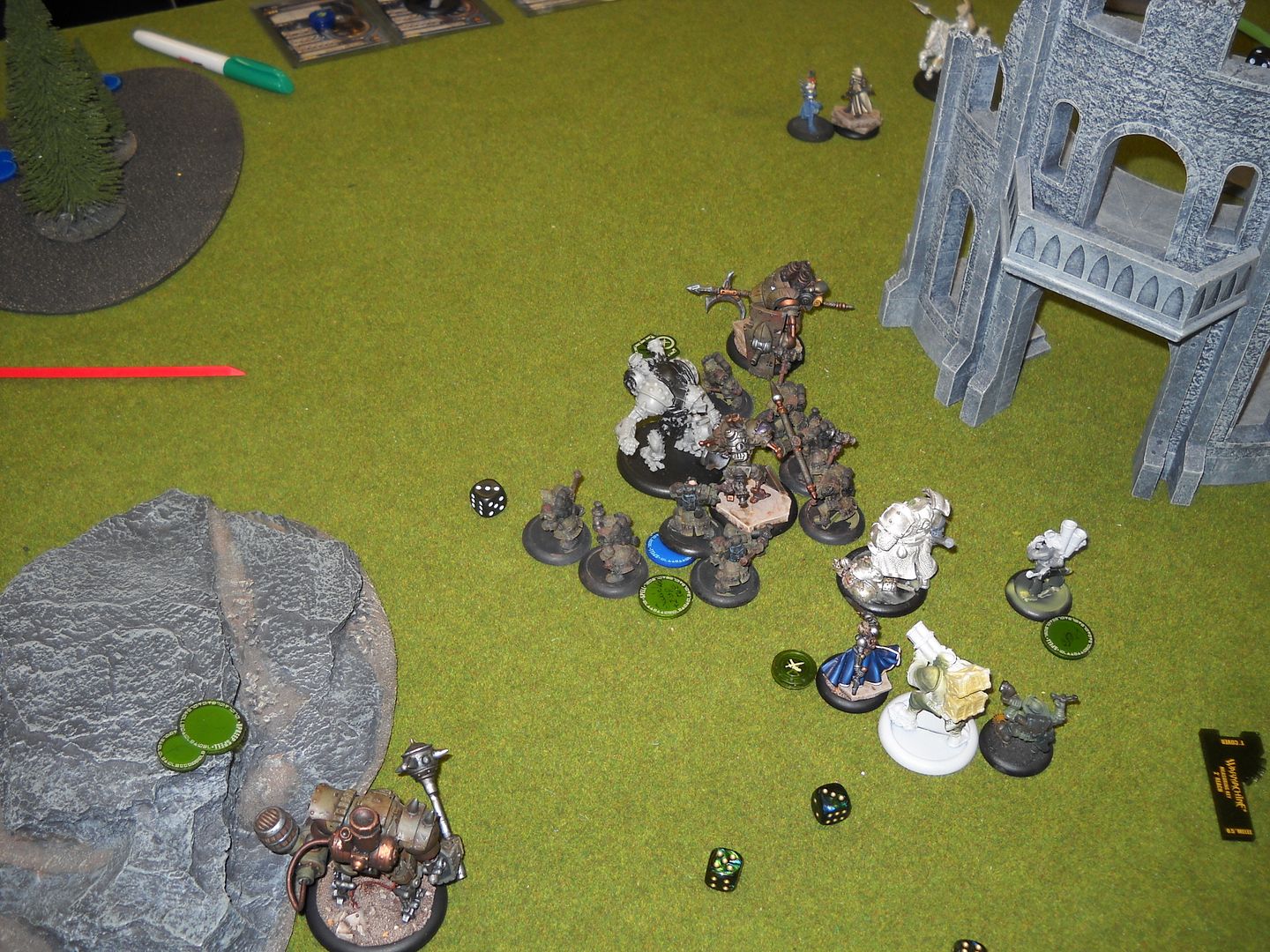 Well Between Eyriss' shennanigans and the heroic combo of talon (with Ashlynn's "move if you get too close spell" whose name I cant remember right now) as bait a and stall tool and the forgeguard to mop up those aforementioned stalled jacks (I LOVE the way these guys work together) with Ashlynn's speed spell & rhuperts march or tough orders on them.
Heavenly :)
Add in a round of roulette and this is what my opponent ends up looking like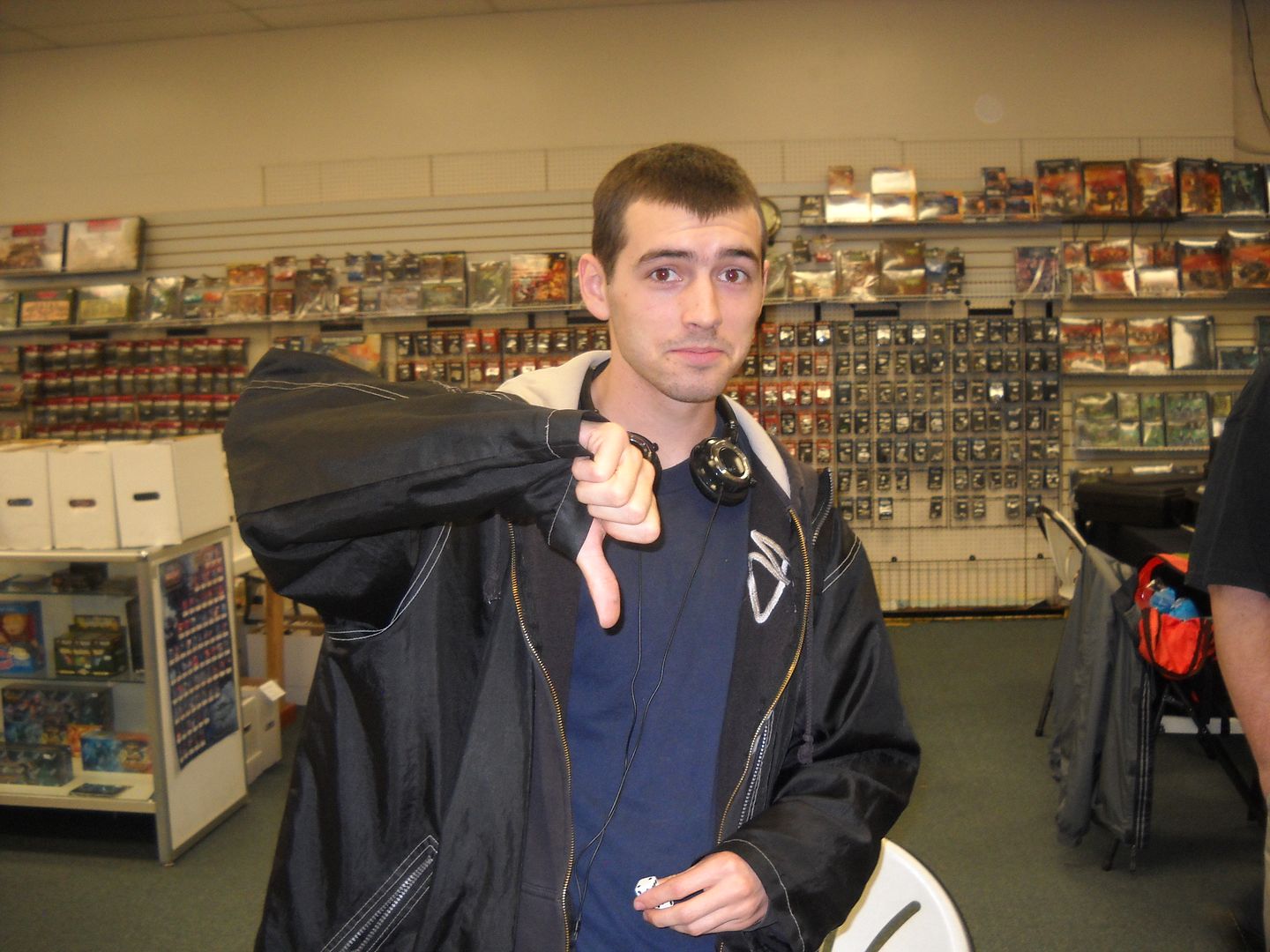 Better luck next time dude!
My last game of the day was Vs. Nic Drake - and with a name like that you know he has to try out :
Drake McBain! +6
Nomad 6
Alexia and the Risen 4
Sam McHorne and the Devil Dogs 4
Nomad 6
Steelhead Halbradiers 4
Steelhead Halbradiers 4
Kell Bailoch 2
Alten Ashley 2
Orin Midwinter 2
Gorman Di Wulfe 2
Nic is one of my friends and favorite opponents (even if he is the slowest player I know!) Our games are always close and his lists always seem to have great variety. With McBain he was soundly kicking my face in throughout the match, but by the end I had positioned myself well and got a lot of viscious payback but no caster kill! DOH! When the dust cleared it was indeed a draw, BUT I had taken ALL the objectives that were worth extra points on the scenario so I still picked up as many generalship points as if I had won :)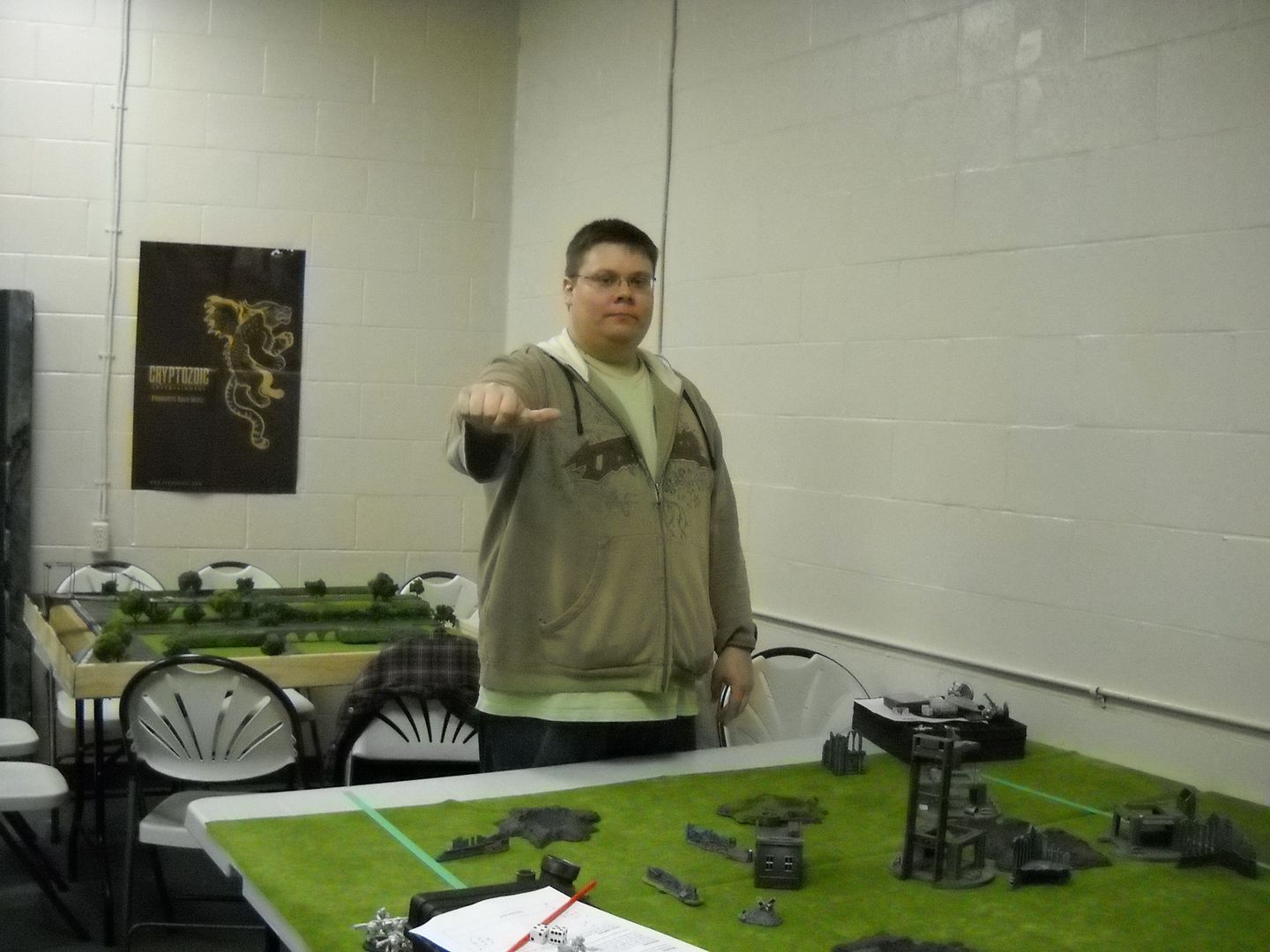 Next time Nic.... Next Time!
Last battle was vs Chris - who thought he wasnt even going to make it. Im glad he did - he is always a ton of fun to play and keeps you on your toes the whole time.
I dont have his list unfortunately but it was Cygnar - Kraye with stuff. If you peek at the pic you will likely know better than I what that stuff is!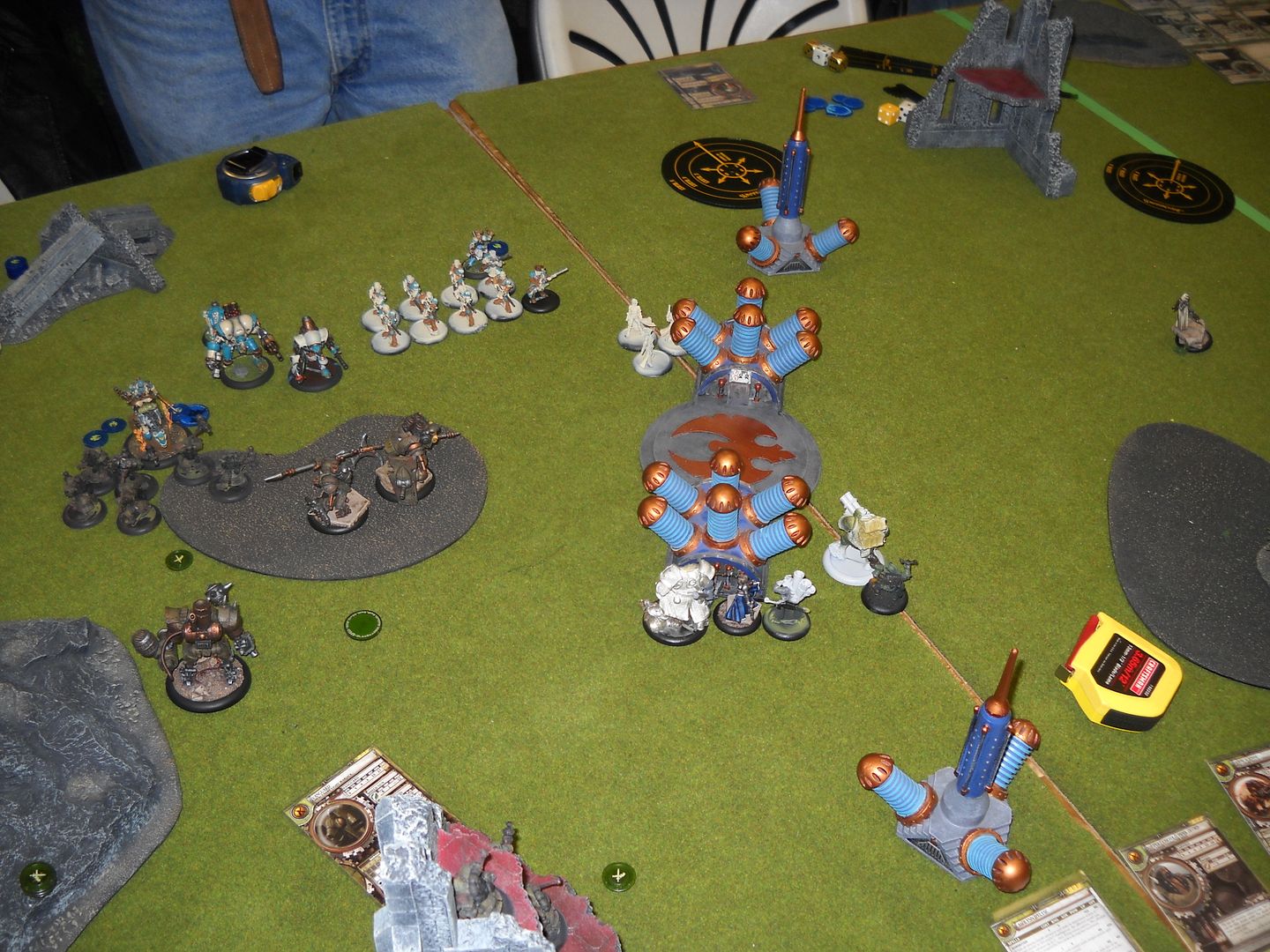 This game was brutal but in the end I had the controll points and used the terrain and intimidation to keep him back out of my way. The Forgeguard with their 'Jack escort really won the game for me in a big way. Gave me the breathing space I needed to take and really hold the objectives. It was also nice to have a stealthy quick moving Eiryss look like she was moving up for an assasination run only to run back as fast as she could to claim the other objective before he realised that she could a) move that far and b) win the game..... mwuhahaha!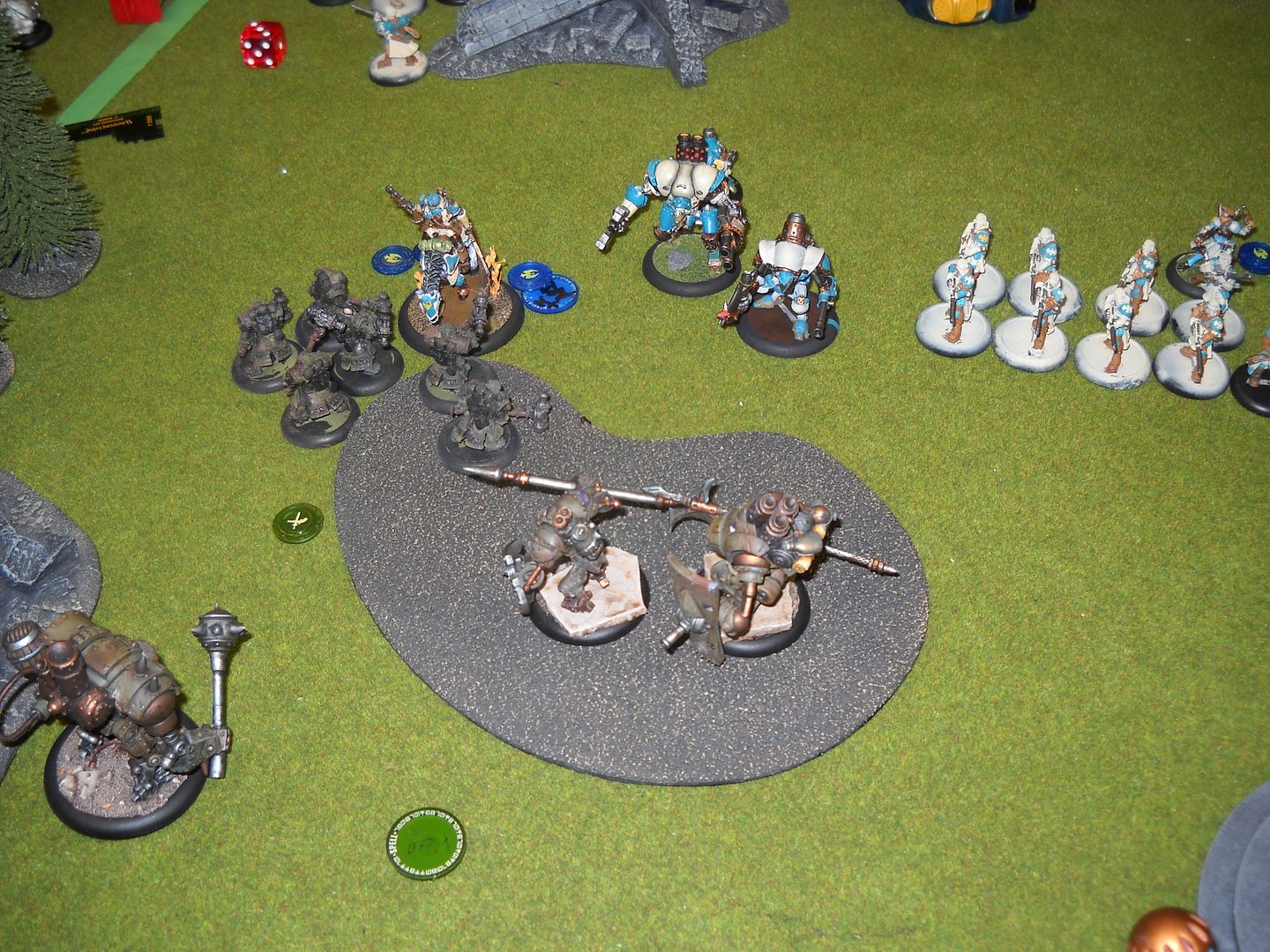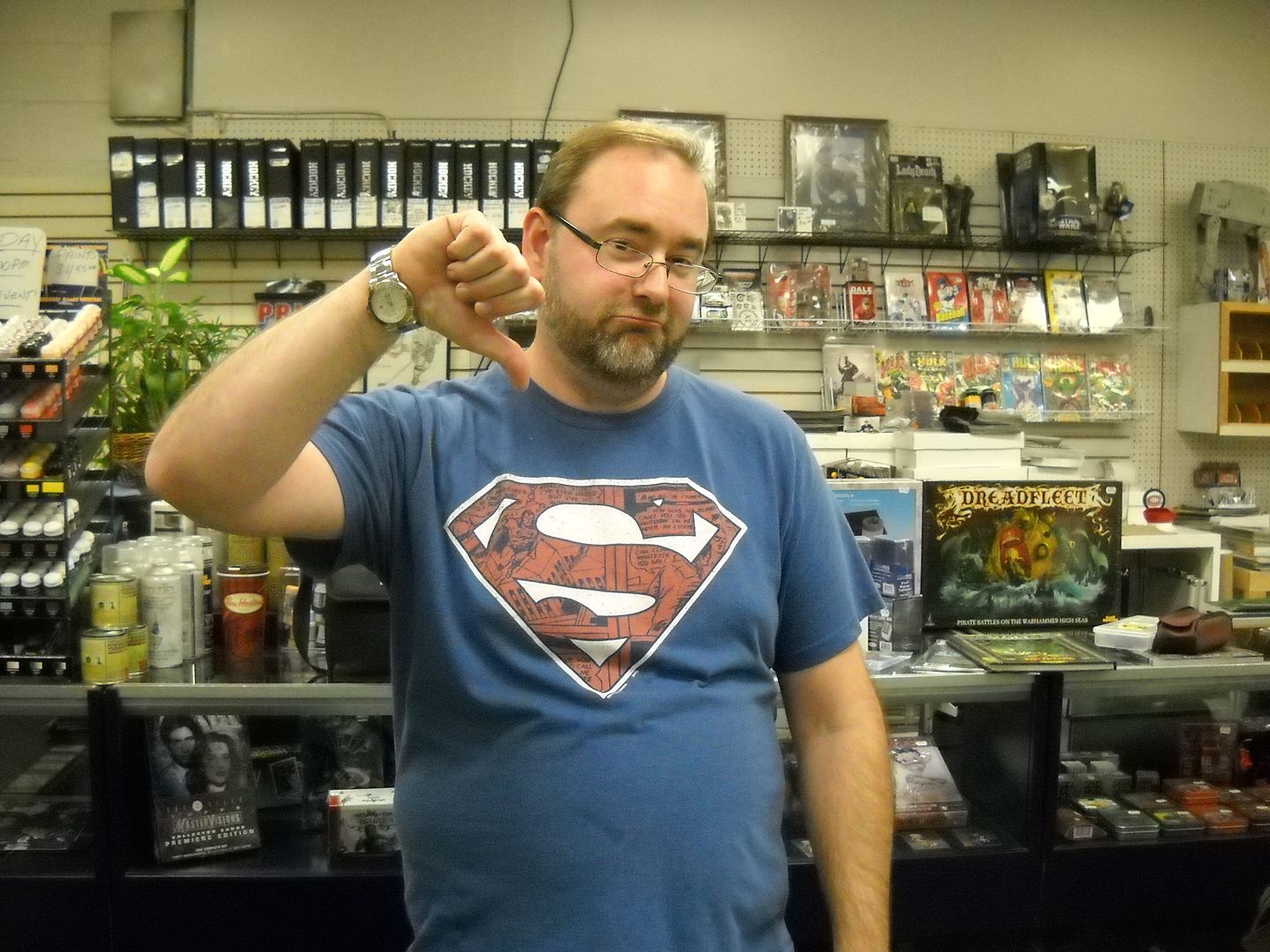 Tournament Results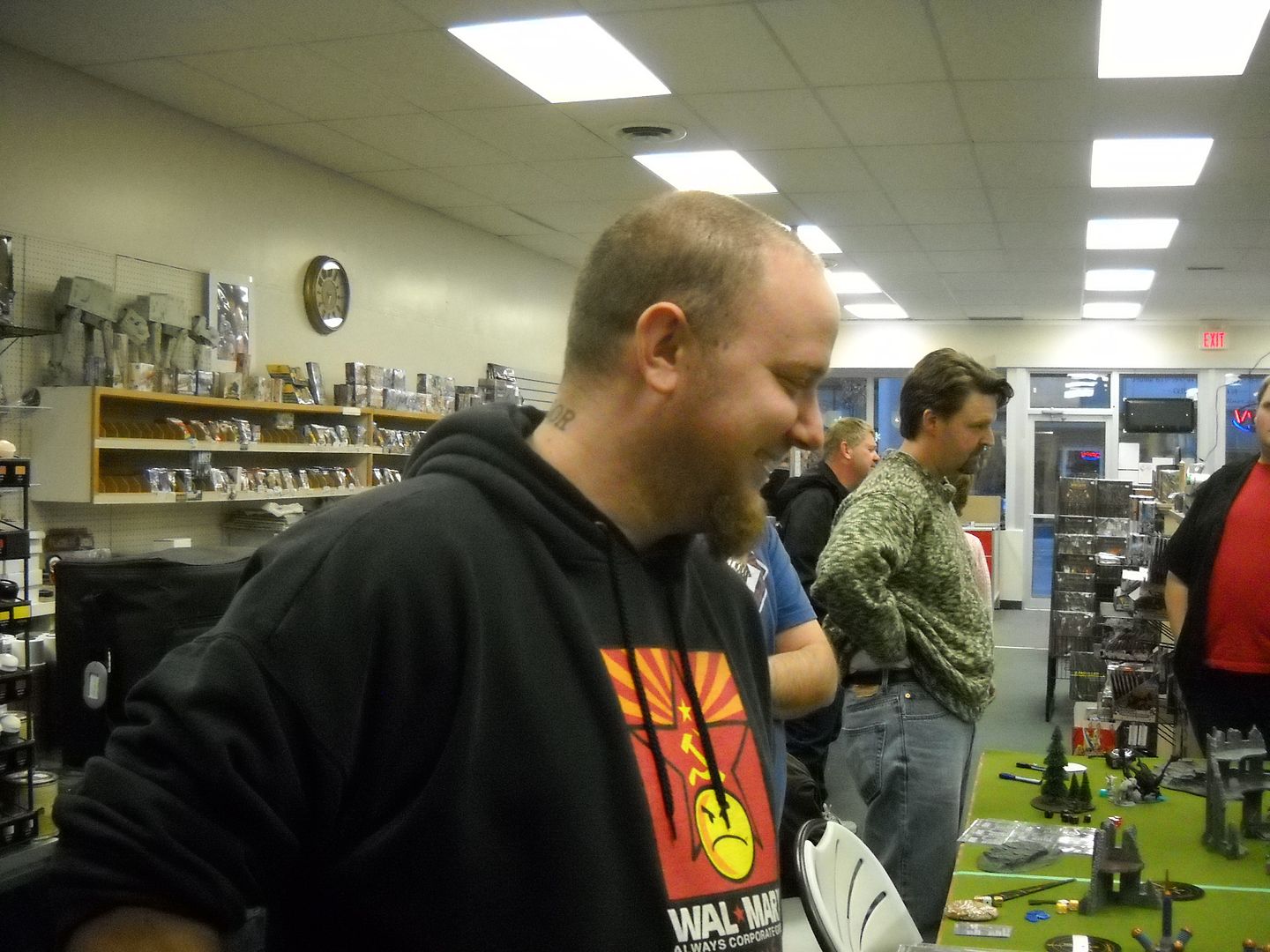 Overall: Pat and his creepy cryx
General: James (me - woohoo!)
Sportsman: Clint (REALLY???)
Army: Chris (the guy I played in the last game)
Here is a pic of Pat......
and the die roll that nearly lost him the tourney.....
Good on you for recovering from that one buddy! LOL
Cyall Next Week!