So here is the first part of an ongoing semi regular series of articles covering the longterm build of my beasts army. The first few pieces here are ones that have been posted before in one form or another but I think it is important and worth my while to gather all these threads into one cohesive concept.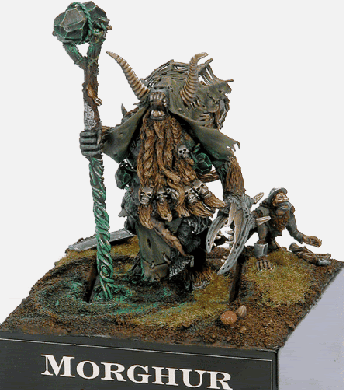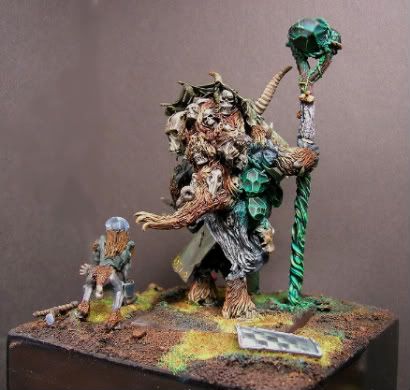 My army started out innocently enough as two vaguely related ideas. I was playing a lot of Mordheim at the time and decided that a custom beasts warband would suit my fancy AND could double as a golden demon entry if I put enough effort and care into it. I also picked up the beasts army book to give me additional ideas, background etc. for my warband.  In this book I found the illustration of Morghur.  I thought it was AMAZING. When I saw the model released, however, I was thoroughly underwhelmed.
My friend (and well known model making Deity) Joe Orteza was teaching me to sculpt at the time and it was he who suggested that this be my first major sculpt as opposed to a simpler conversion. We did a bit of practice and I learned a ton - from there I began this model with some preliminary sketches, a few choice parts and a small mountain of putty. The results you can see below. He doubles as a doombull occasionally but it is the concept and character of Morghur that I love so much and is his usual role......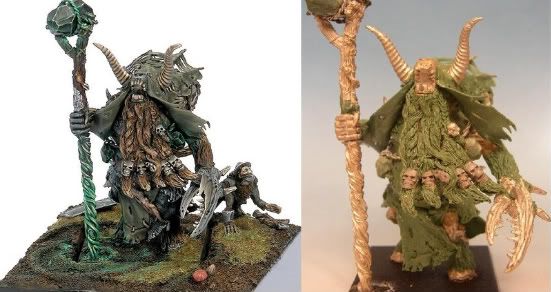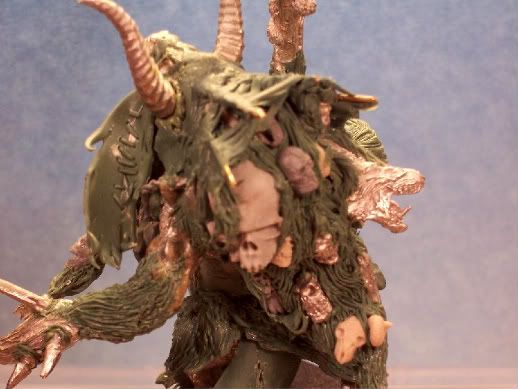 I was quite pleased with the mid spawn transformation of the brettonian archer and the visual representation of his changing influence seen in the rippling ground and the transforming staff and the pattern bleeding off the sheild
I think I did a reasonable job of capturing the feeling of the picture, his warping influence and the terrible nature of this particular beast even if mine is substantially bigger than the GW fig. (I keep one of those on hand in case someone objects to playing against this particular interpretation, though I havent yet met an opponent who objects).  It won me a silver demon in Chicago in 2005
Following that I tricked out the warband. Aside from playing well, these guys gave me an opportunity to use a variety of models that I really liked and to take up the challenge of a fellow painter who in badmouthing me was overheard saying - "Sure he's alright and his conversions are cool BUT he cant do Non Metallic Metals or any of the really hard painting stuff" I figured WTF! - I figured I could do them (hadnt ever really been interested or done them before but I understood the concept well enough), they were very in style at the time which could only help my chances, and with just these five minis to do it would be a good chance to try it (and to shut this bozo up - lol!)
Well it worked and I earned a silver demon in 2006 for these guys too.
Here is my favorite of the bunch (sorry for the badly lit pic ill be reshooting it soon)
To be honest I liked the models so much, the character of Morghur so much and had such a fun time doing the NMM that I then said to heck with it and dove head first into working on my first real showpiece fantasy army. Since then there have been times that I have regretted choosing such a technique and labour intensive style for a whole army but I am really incredibly proud of them. I have been really motivated to continue to push my skills and they have grown considerably in my pursuit of this army.
Having picked away at it for several years now I think I am finally serious about finishing it off. I have completed the majority of the units that I intend to enter in competitions and have learned enough that the techniques used to do this style are much quicker and less laborious than before.  As such, it is time to see this army through to completion. With the new Army book looming it is my intent to finish off the main units that I am confident will still be there in some form (herds, chariots, bestigors & centigors) so that I can spend my time fine tuning the list and adding just a few more stylish units of whatever is new and shiny for the relaunched list (gorgon anyone?). This will be my record of this endeavor.
Cya next week
UPCOMING STUFF: MORE DRAGOMIR, MORE BEASTS, BLOODBOWL, AN AMAZING KHORNE CHARCTER CONVERSION, SHOTS OF MY DIORAMA, JEFF "DRAGONFORGE" WILHELM'S AWARD WINNING TANK, GONE TO GROUND, NEW LOGO/DESIGN,STRIPPING MODELS, SCULPTING "HOW TO's", GORGON MINIATURES
- AND THATS JUST THE BEGINNING
- HOLY CR@P ITS SHAPING UP TO BE A GOOD YEAR FOR THIS SITE!!!!!!!!!!!!!!!!!!!